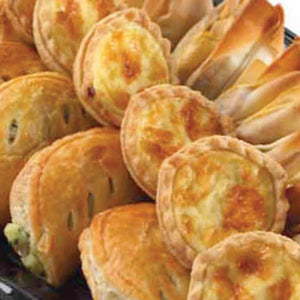 A selection of Vegetable Samosas, Popeye Rolls and Mini Quiche.
Serves approx 8 - 10 people.
Veg Savoury Platter
Veg Samosa: Ingredients: Vegetables (Potato, Onion, Peas, Carrot) (75%), Wheat Flour, Cottonseed Oil, Salt, Green Chilli, Coriander, Garam Masala Powder (Cumin Seed, Black Pepper, Cinnamon, Cardamom, Bay Leaf, Mace, Clove, Nutmeg), Lemon Juice, Cumin Seed, Garlic, Ginger, Turmeric Powder.
Cheese & Spinach Rolls: Ingredients: Water, Wheat Flour (contains Calcium, Iron, Niacin, Thiamine), Onion, Cheddar Cheese (Milk), Vegetable Oils (Palm Oil, Rapeseed Oil), Spinach, Dehydrated Potato Flakes, Skimmed Milk Powder, Semi Skimmed Milk, Whole Egg, Salt, Modified Maize Starch, Emulsifiers (E471, Mono & Di-Glycerides of Fatty Acids, Sunflower Lecithin), Modified Tapioca Starch, White Pepper, Dextrose, Colours (Curcumin, Beta Carotene), Vegetable Protein, Milk Protein, Acidity Regulator (Trisodium Phosphate), Anticaking Agent (E552), Vegetarian Rennet.
Quiche: Ingredients: Wheat Flour, Cream (Milk), Semi Skimmed Milk, Whole Egg, Cheddar Cheese (Milk), Vegetable Oils (Palm Oil, Rapeseed Oil), Water, Cheese Powder (Milk), Salt, Soya Flour, Flour Treatment Agent (E920), Black Pepper, Emulsifier (E339).
Allergens highlighted in Bold
Made in a bakery that also handles Nuts, Celery & Mustard
Allergen Policy
We make hundreds of products in our shops and in our central bakery / kitchens for our shops. All are made to the highest hygiene standards, but because we don't have segregated production for each product, we can't really guarantee any of our food is allergen free.